Grossman - Talar Neck Fractures
CMEOnline
This course is for individuals who attended the live event !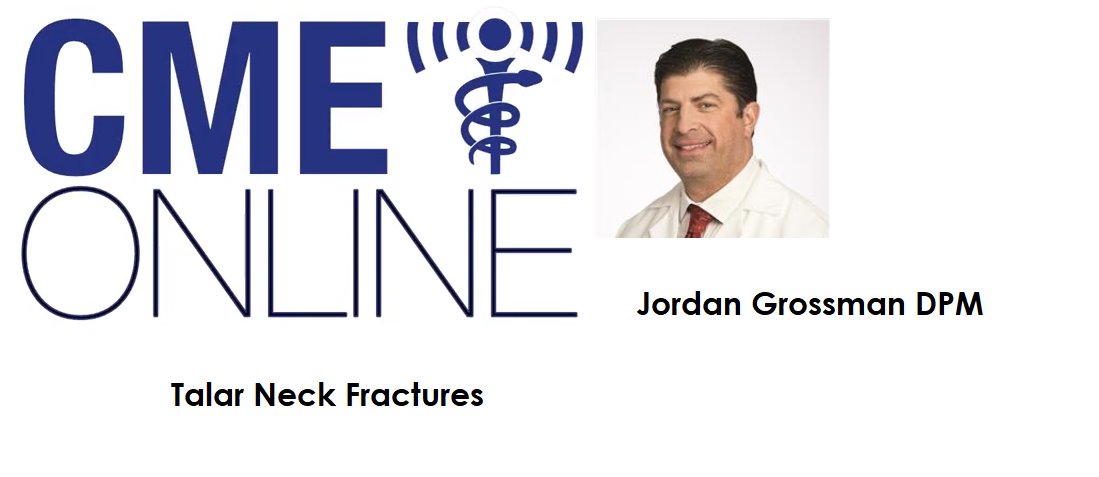 Talar Neck Fractures: Recorded August 30, 2020
Learning Objectives: At the end of the educational program, the learner will be able to:
Describe normal talar anatomy, including vascular supply.
Describe the pathophysiology of talar aseptic necrosis and explain clinical and imaging characteristics to aide in the diagnosis and treatment.
Evaluate controllable and uncontrollable factors that can influence the normal bone healing process.
Describe the Hawkin's talar fracture classification and the sequelae of these injuries.
Describe and select appropriate surgical and conservative treatment options of various talar fractures.
Discuss the Berndt-Harty classification with mechanism and long-term sequelae of osteochondral lesions and talar fractures.
Dr. Jordan Grossman earned his podiatric medical degree from the Ohio College of Podiatric Medicine in Cleveland, Ohio, followed by a podiatric surgical residency at the Podiatry Hospital of Pittsburghand fellowships at The Western Pennsylvania Hospital in Pittsburgh and at The University of Ulm, Germany. Dr. Grossman is board certified in both foot surgery and reconstructive rearfoot and ankle surgery by the American Board of Podiatric Surgery. He serves as faculty for the Orthopaedic Residency Program at Akron General Medical Center and the Podiatric Surgical Residency Program at Kaiser Permanente/Cleveland Clinic. Dr. Grossman also serves as a clinical assistant professor of podiatry in orthopaedic surgery at Northeastern Ohio Universities College of Medicine and is Chief, Section of Podiatry at Akron General Medical Center and St. Thomas Hospital/Summa Health System. His areas of special interest are skin and nail fungal infections, pedal melanoma, soft tissue masses, pedal dermatitis, longitudinal melanonychia, and podiatric dermatological risk management.
Fees
25.00 per webinar
Intended Audience : Podiatrists
Refund Policy
No refunds are available for online courses
Compliance Statement
In accordance with the Council on Podiatric Medical Education's Standards and Requirements for Approval of Providers of Continuing Education in Podiatric Medicine, any relevant financial relationships with commercial interests of faculty, planning committee, or any others who have influence over the content of this educational activity must be disclosed to program participants. Neither the planning committee members nor the speaker have any financial relationships to disclose.
Commercial Interests: No commercial interest provided financial support for this continuing education activity
For more information contact CMEonline at info@cmeonline.com
CME Online is approved by the Council on Podiatric Medical Education as a provider of continuing education in podiatric medicine. CME Online has approved this activity for a maximum of 0.75 continuing education contact hour.