2023 Podiatry Risk Management Course
CMEonline
About This Course
Legal and Regulatory Update: What's New, What's Coming
Recorded Live December 5, 2022
Part 1 - Course Staff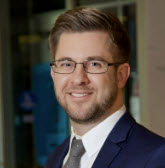 Andrew Alder
Podiatrists are facing more regulatory demands than ever before. During this program you will get a general overview and update of some of the laws and regulations you should be aware of in 2023 to help protect you and your practice. Andrew Alder is a shareholder and skilled litigator who focuses his practice in healthcare law, representing medical providers in medical malpractice lawsuits, licensure board disciplinary matters, billing audits and investigations and Section 1983 civil rights actions under the Eighth Amendment. He also has extensive civil litigation experience in a variety of areas, including employment, local government and municipality law, commercial litigation, personal injury and insurance litigation. Mr. Alder is a member of the Idaho and Virginia State Bar Associations and is admitted to practice before all state and federal courts in those states. He is also admitted to the Ninth Circuit Court of Appeals.
Objectives of this program include educating the participant on the following key topics:
HIPAA Privacy & Security
The Information Blocking Rule
Ransomware & Cyber Security
Medicare Audits and the Appeal Process
Fees
$99.00
Intended Audience: Podiatrists
Refund Policy
No refunds are available for online courses
Compliance Statement
The information contained in this presentation does not establish a standard of care, nor does it constitute legal advice
The information is for general informational purposes only and is prepared from a risk management perspective to aid in reducing professional liability exposure
Please review this presentation for applicability to your specific organization. You are encouraged to consult with your personal attorney for legal advice, as specific legal requirements may vary from state to state.
Successful completion of this course will entitle you to a 10% discount on your next PICA Professional Liability Policy Renewal according to PICA Policy. The course must be completed prior to, but no later than 30 days following the date of renewal.
In accordance with the Council on Podiatric Medical Education's Standards and Requirements for Approval of Providers of Continuing Education in Podiatric Medicine, any relevant financial relationships with commercial interests of faculty, planning committee, or any others who have influence over the content of this educational activity must be disclosed to program participants.
Commercial Interests: No commercial interest provided financial support for this continuing education activity.
CME Online is approved by the Council on Podiatric Medical Education as a provider of continuing education in podiatric medicine. PICA has approved this activity for a maximum of 1.0 continuing education contact hour.